New findings on deep sea whales, dolphins prompt call to stop Israel's search for gas
First extensive exploration of Israel's deep-sea economic waters by Israeli-UK team identifies two species of threatened whales that are sensitive to underwater noise
By SUE SURKES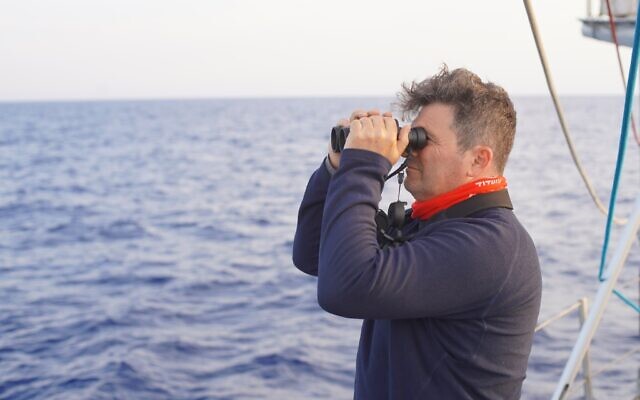 Dr. Aviad Scheinin, director of the Marine Apex Predator Lab at the Morris Kahn Marine Research Station at the Haifa University Charny School of Marine Sciences, looks for marine mammals during the Israel-UK survey of Israel's economic waters, in Spring 2022. (Elad Aybes, Greenpeace Israel)
The first extensive exploration of Israel's deep-sea economic waters, or exclusive economic zone (EEZ), has yielded evidence of endangered sperm whales, vulnerable Cuvier's beaked whales, and species of dolphin, prompting calls to abandon further gas and oil exploration, or to at least carry out further research before such exploration can start.
The discoveries of these creatures, in waters up to 200 marine miles (370 kilometers) from the Mediterranean coast, were made by a joint Israeli-UK team.
Most existing research on the distribution, behavior, and ecology of marine mammals in Israel's economic waters focuses on areas close to the coast.
Sponsored by Sheba: The Stem Cell Revolution at Sheba Medical CenterPauseNext playlist itemUnmute
Loaded: 75.41%Picture-in-PictureFullscreenClose
But the Mediterranean Sea is also home to vast, deep plains, with canals bounded by slopes that serve as an important habitat for marine mammals.
According to a 2020 Report by the Scientific Committee for the Agreement on the Conservation of Cetaceans of the Black Sea, Mediterranean Sea, and Contiguous Atlantic Area, 12 species have been spotted in the Eastern Mediterranean in the past.
The British-Israeli research, carried out aboard Greenpeace's SY Witness vessel during April and May of last year, combined observation with the use of hydrophones to acoustically identify the mammals. It was led by Dr. Aviad Sheinin, on behalf of the University of Haifa in northern Israel, and Dr. Kirsten Thompson of Greenpeace's Scientific Unit at Exeter University. Italian researchers also took part.
Dr. Kirsten Thompson of Greenpeace's Scientific Unit at the UK's Exeter University aboard the SY Witness documenting marine mammals in Israel's economic waters, Spring 2022. (Elad Aybesת Greenpeace Israel)
During the survey voyage, a total of 22 acoustic events were recorded using a hydrophone array, an acoustic monitoring instrument. These included three encounters with groups of sperm whales, one with at least four Cuvier's beaked whales, and several with species of dolphin.
According to a paper presented at a European Cetacean Society Conference in Spain in April, sperm whales were found feeding around 10 kilometers (six miles) off the coast of Haifa, at a depth of 370 to 1720 meters (1215 feet to 5,645 feet). Their vocalizations (a series of clicks) "corresponded to the Mediterranean dialect."
A map of the whale and dolphin sightings during spring 2022 off Israel's Mediterranean coast. (Israel-UK research)
One of the sperm whales in the group was photographed and became the first "Israeli" whale to be recorded and cataloged by its fluke — the lobes of its tail. It later emerged that the same young whale, named Kim Kobo, was also observed several times in recent years in the Ligurian Sea near Italy.
Intensive shipping takes place in Israel's economic waters, as do oil and gas extraction, and marine mammals are exposed to strikes by ships and fishing vessels, ingestion of marine debris, and underwater noise from seismic surveys and military operations.
Whales, and especially Cuvier's beaked whales, are particularly sensitive to underwater sound, and mass stranding events have been linked to naval sonar, the researchers said.
"These threats can cumulatively affect cetacean populations and, given the presence of two globally threatened populations of sperm and Cuvier's beaked whales, we urge for caution in issuing new permits for gas prospecting and extraction," the paper said.
The tail of a sperm whale named Kim Kobo spotted off the coast of Israel in Spring 2022. (Haifa University)
Dr. Aviad Scheinin, director of the Marine Apex Predator Lab at the Morris Kahn Marine Research Station at Haifa University's Charny School of Marine Sciences, said: "Information on whales and dolphins in Israel's deep sea is scarce, and the ability to make informed decisions regarding this space in their context is inadequate. We intend to change this by conducting systematic acoustic and visual surveys. "
"The first survey initiated by Greenpeace and Haifa University was groundbreaking and led to fascinating findings that were published in a scientific article. In the next three years, we will conduct five more deep-sea surveys with Greenpeace's support and later with finance from the Energy Ministry to try to close the knowledge gap."
Greenpeace Israel is fighting to nix the Energy Ministry's latest tender for fossil fuel exploration over 6,000 square kilometers (2,315 square miles) of the seabed.
Greenpeace Israel's director, Jonathan Aikhenbaum, said, "Israel's deep sea is a marvel that we are only beginning to get to know and it is vital to protect it at all costs. Promoting polluting fuel drilling in such a sensitive area and at such a critical time of climate emergency is unthinkable. In addition to the injury to mammals and sea creatures, new drilling will release enormous quantities of methane, a particularly powerful greenhouse gas. Therefore we say to the Energy Ministry: 'Protect the sea and the climate, cancel the drilling.'"